Indoor Golf
This program is held at LNSP EAST (Willoughby) only.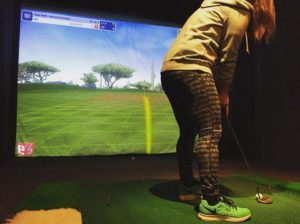 Using your own clubs or a set of our complimentary rental clubs with a real golf ball, our system allows for such precision and realism that your golf shots will bounce off trees, splash in ponds, and respond to other obstacles and terrain as they would outdoors. A series of computer controlled laser sensors read the speed, trajectory, and spin of your ball to ensure a true read of all shots. This means that, yes, you will still have that slice, even indoors.
Golf in our indoor booths becomes much quicker with the walking between shots removed, and the computer automatically places you at your next lie, taking turns by who lies farther out. A full round of 18 holes will take the average golfer about one hour in our simulators, though an experienced player can finish quicker. If playing with friends of colleagues, just add about an hour per person per 18 holes. Leagues & lessons are available.
Indoor Golf Hours
October through April : 8 a.m. – Midnight / Call ahead for availability
May through September: By appointment only
Rates
$32 per hour  |  $17 per half hour
Seniors & Juniors (under 16)
$21.00 per hour  |  $12 per half hour
(Open to Close, Monday – Friday ONLY)
Indoor links is open year-round, so it is the perfect way to keep up with your golf game during those cold and snowy Cleveland winters. In your off season you can keep in practice by playing Pebble Beach, Pinehurst #2, or any of our 40 championship courses.
WINTER GOLF LEAGUE:
It's time for the 2017-2018 Indoor Golf League to begin!!!
The 1st half begins the week of Nov. 6 and runs through the week of Dec. 31, with the playoffs starting the week of Jan. 1. The Championship round will be played on Jan. 11 (Thursday) It will be an 8 week league, with the second half beginning the mid January.
We are looking forward to seeing all of you again! If you have any questions, Dan can be reached at 440-602-4000 ext. 229 or email dnaderer@lnsportspark.com.
To register: DNaderer@LNSportsPark.com
Parties at Indoor Links
Indoor Links can accommodate from 10-75 guests. In addition to the golf simulators, the 5500' indoor golf area includes a putting area, several TV's and a comfortable seating and entertainment area. Full-service catering & bartending is available from our on-site restaurant, The Players Club.
Available Courses
BANFF SPRINGS RESORT – ALBERTA, CANADA
BARTON CREEK (FAZIO FOOTHILLS) – TEXAS
BAY HILL – FLORIDA
THE BELFRY – WEST MIDLANDS, ENGLAND
BIGHORN (CANYONS COURSE) – CALIFORNIA
BIGHORN (MOUNTAINS COURSE) – CALIFORNIA
BOUNTIFUL RIDGE – UTAH
CASTLE PINES – COLORADO
COG HILL DUBSDREAD – ILLINOIS
COVERED BRIDGE – INDIANA
DEVILS ISLAND – FANTASY
DORADO BEACH (EAST COURSE) – DORADO, PUERTO RICO
EMERALD DUNES – FLORIDA
ENTRADA AT SNOW CANYON – UTAH
FIRESTONE C.C. (SOUTH) – OHIO
HAPUNA – HAWAII
HARBOR TOWN – SOUTH CAROLINA
INNISBROOK (COPPER HEAD) – FLORIDA
KAPALUA BAY – HAWAII
KAPALUA PLANTATION – HAWAII
KAPALUA VILLAGE – HAWAII
LATROBE C.C. (FALL) – PENNSYLVANIA
LATROBE C.C. (SUMMER) – PENNSYLVANIA
MAUNA KEA RESORT – HAWAII
PAR 3 MOUNTAIN COURSE – FANTASY
PAR 3 OCEAN COURSE – FANTASY
PEBBLE BEACH – CALIFORNIA
PELICAN HILL – CALIFORNIA
PINEHURST #2 – NORTH CAROLINA
PINEHURST #8 – NORTH CAROLINA
PRAIRIE DUNES – KANSAS
SEA ISLAND – GEORGIA
ST. ANDREWS JUBILEE COURSE – ST. ANDREWS, SCOTLAND
ST. ANDREWS NEW COURSE – ST. ANDREWS, SCOTLAND
ST. ANDREWS OLD COUSE – ST. ANDREWS, SCOTLAND
THREE CANYONS – FANTASY
TORREY PINES (SOUTH COURSE) – CALIFORNIA
TRIBUTE AT THE OTSEGO CLUB – MICHIGAN
TROON NORTH – ARIZONA
VALDERRAMA – CADIZ, SPAIN
---
Latest News
January 24, 2018
Spring 2018 Football and Cheerleading Camps!
LIVETHELION FOOTBALL SKILLS CAMPS Saturday, March 31st | 2-6pm  Grades 1-8 $60/person   * Quarterbacks – Wide Receivers – Running Backs – Line Men *   Register at www.LiveTheLion.com  Registration ends March 10th!     LITTLE LIONS FOOTBALL ACADEMY Saturday, March 31st | 12-1:30pm $25/person Register at www.LiveTheLion.com      LIVETHELION CHEER SKILLS CAMP Saturday, March 31st | […]
November 10, 2017
LNSP EAST Christmas Camps
– SOCCER – Wed. December 27th + Thurs. December 28th 11am- 1pm | $65 per player Focus on skill training to include finishing and goal keeping Directed by Ali Kazemaini /440-221-0810 – BASEBALL – Thurs. December 28th + Fri. December 29th throwing – pitching – hitting – fielding 10-12 yr. olds / 12:00-2:00pm 13+ […]