Tournaments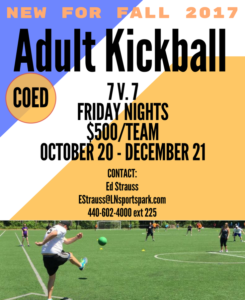 Thank you to all who participated in our 2016 Corporate Challenge!

Lost Nation Sports Park East of Willoughby, Ohio will be hosting our Second Annual Corporate Challenge on Saturday, April 8th 2017.
Presenting Sponsor: ONYX Fit Lost Nation Sports Park
Corporate Sponsors:
First National Bank
Apollo Welding & Fabricating
Proforma Sterling Media
This corporate challenge will include multiple competitions throughout the day, including obstacle course, basketball, kickball, volleyball, dodgeball, and tug of war! The Corporate Challenge promotes, gives and supports teamwork, company pride and corporate wellness – all through healthy competition. In addition to the employee benefits, the Challenge can also be used as a cost-effective marketing tool to promote your company in the community and collect business.
Team Fee: $300 / Minimum of 6 players (2 girl min.)
** team t-shirts included **
Challenges include:
Obstacle course – 6 v. 6, minimum of 2 girls
Basketball – 3 v. 3, minimum of 1 girl
Kickball – 6 v. 6, minimum of 2 girls
Volleyball – 6 v. 6, minimum of 2 girls
Flip Cup – 6 v. 6, minimum of 2 girls
Dodge ball – 6 v. 6, minimum of 2 girls
Tug of War – 6 v. 6, minimum of 2 girls
For more information please email Sarah@LNSportspark.com
---
Latest News
June 26, 2017
COED ADULT KICKBALL COMING FALL 2017 (Willoughby)
June 5, 2017
2017 LNSP Lake County Captains Outing – July 9th
Join Lil' Kickers and Lil Sluggers for a fun afternoon at the Lake County Captains on Sunday July 9th. Children enrolled in kickers and sluggers receive FREE entry AND get to go on the field before the game!!! Family members are able to get discounted tickets for $8. Join the Facebook event! REGISTER HERE!