Soccer 101 + First Touch Soccer School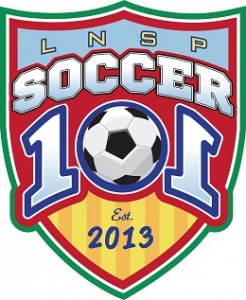 Started November 3rd, 2012, LNSP introduced a brand NEW Youth In-House Recreational Soccer program called "Soccer 101."
This program includes ages 6-10 and will be the next level following the graduation of the "Lil' Kickers" program. "Soccer 101" will dedicate a small portion of time for foot skills and the majority for kids to have FUN and compete in small-sided scrimmages
It is our goal to develop the youth's skill level through foot skills and to introduce them to a beginners stage of competition by playing team matches. All teams will be coached by current and/or former soccer players, each displaying qualities in coaching and child management.
LNSP EAST – WILLOUGHBY 
FALL SESSION – September 9th-November 25th
Saturdays (11am) – 12 week session ($168.00)
Registration Fee ($15)
Contact Info:   Danny Bartulovic
                          Danny.Bartulovic@LNsportspark.com
                          440.602.4000 Ext:236 (Work)
                          440.488.1313 (Cell)
Follow us on Facebook @Soccer 101 at Lost Nation Sports Park East
Follow us on Twitter @Soccer101LNSP
LNSP WEST – LORAIN – FIRST TOUCH SOCCER SCHOOL!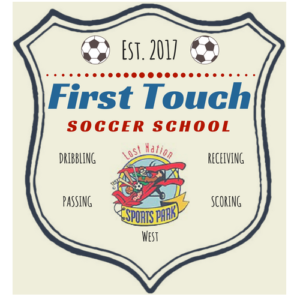 – Six 1-Hour Classes per Session. All classes are currently available online. 
– $75 per player per session ($12.50/class) plus a one time $15 registration fee
– Classes are on Sundays anywhere from 3-5PM. Times TBD based upon age, class availability and skill level
– Ages 8-12
Topics:
Dribbling: general dribbling techniques, turns, change of direction and 1v1 moves
Passing: general passing techniques, short & long passes, on the ground & in the air passes
Receiving: general receiving techniques, chest, thigh, feet, on the ground and in the air
Scoring: general scoring methods, shooting
1v1, 2v2, 2v1, 3v2 application of development topics
Contact Paul Liotta at PLiotta@LNSportsPark.com to sign up!
Spring Session:
April 2 – May 21
Off on Easter Sunday (4/16) & Mother's Day (5/14)
Summer Session:
June 4 – July 16
Off on Father's Day (6/18)
Fall Session 1:
August 6 – September 10
Fall Session 2:
September 24 – October 29
Winter Session 1:
November 12 – December 17
Winter Session 2:
January 14 – February 18
---
Latest News
June 26, 2017
COED ADULT KICKBALL COMING FALL 2017 (Willoughby)
June 5, 2017
2017 LNSP Lake County Captains Outing – July 9th
Join Lil' Kickers and Lil Sluggers for a fun afternoon at the Lake County Captains on Sunday July 9th. Children enrolled in kickers and sluggers receive FREE entry AND get to go on the field before the game!!! Family members are able to get discounted tickets for $8. Join the Facebook event! REGISTER HERE!